Social
Certificate Awarding Ceremony to the Participants in the Comprehensive Health Promotion Program for Personnel in the Industry (Wellness for Industry), Batch 1, totaling 21 persons from 18 leading private agencies
On March 10, 2023, Assoc. Prof. Dr. Sarawut Thepanondh, Dean of the Faculty of Public Health, presented certificates to the participants in the Comprehensive Health Promotion Program for Personnel in the Industry (Wellness for Industry), Batch 1, totaling 21 persons from 18 leading private agencies at the training's closing ceremony.
Asst. Prof. Dr. Chaiyanun Tangtong, Deputy Dean for Educational Administration and person in charge of the curriculum, summarized training results at the Holiday Inn & Suites, Rayong.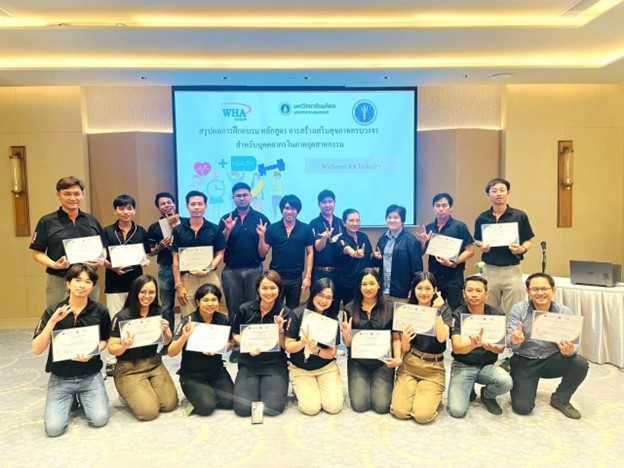 Occupational Health and Safety Services in the Industrial Sector Project
By Faculty of Public Health, Mahidol University and WHA Corporation Public Company Limited
Principles and Reasons
The mission of the Faculty of Public Health, Mahidol University, is to develop personnel in public health and environment, to develop health knowledge, and to promote community health to maximize the use of available resources for the benefit of the Faculty, society, and the country as a whole. The Faculty has personnel with knowledge and expertise in areas such as teaching and learning, research, and academic services; as a result, its key strategy is to use academic services as one of the means to influence policy and guide society. The Faculty offers a curriculum that promotes lifelong learning, research, short- and long-term training, etc. In addition, it has a health center and an academic services center in public health and environment that have the potential and capacity to provide academic services to society for years.
In 2022, the Faculty was registered with the Ministry of Labor as a service provider for measuring the working environment, including the environment, heat, light, and sound, as well as the collection and analysis of substances in the workplace. In this regard, the Faculty intends to establish a project to publicize the Faculty's various academic services, particularly the assessment of the work environment and health checks based on risk factors, and to expand academic services to the industrial sector, which is a significant economic driver of the country. This will allow the industrial sector to receive services that are legally compliant and technically accurate. The Faculty will organize activities to educate and advise on occupational health safety and working environment, environmental health in industrial facilities, and employee health promotion in industrial facilities. The target area is an industrial estate that serves as a hub for various industrial facilities.
WHA is a corporate entity that owns and manages large industrial estates comprising numerous industrial plants. Therefore, the Faculty would like to request their participation in the Project. The Faculty will be responsible for providing speakers to provide knowledge and advice, while WHA will coordinate for relevant factory representatives to attend the seminar, as well as arranging suitable venues and catering services.
Objectives
To provide knowledge and consultancy on occupational health and safety, environmental health in industrial facilities, and health promotion in industries.
To publicize the academic services of the Faculty.
To participate in social engagement activities.
Project Activities
WHA Group cooperated with the Faculty of Public Health, Mahidol University organized a training project with about occupational health safety and working environment, environmental health in industrial facilities, and promoting employee health in industrial facilities. The training activities in four topics were organized for the safety officers and the related persons of the companies in WHA Industrial Estates, at the WHA Training Center Eastern Seaboard Industrial Estate (Rayong):
| Curriculum | Date | Number of participants (persons) |
| --- | --- | --- |
| Health Risk Assessment | 17 March 2023 | 78 |
| Chemical hazards and health checks based on risk factors | 27 March 2023 | 86 |
| Industrial ventilation | 3 April 2023 | 49 |
| Process Safety Management: a key element to achieve PSM | 10 April 2023 | 49 |
| Total number of participants | | 262 |