Environment
Unified Operation Center (UOC)
Unified Operation Center (UOC) system is implemented to centralize, consolidate, and project results from the three monitoring systems offered at the Group's projects and operation sites. The regulatory agencies' requirement to publicize real-time results to the public by reporting data from various WHA Group operations, including water reclamation and solar systems, in order to analyze, develop, and improve the capacity to manage, control, and plan the WHA Group's utility services, as well as WHA Group's desire to be transparent with its environmental monitoring results, were the primary motivators for developing the UOC system.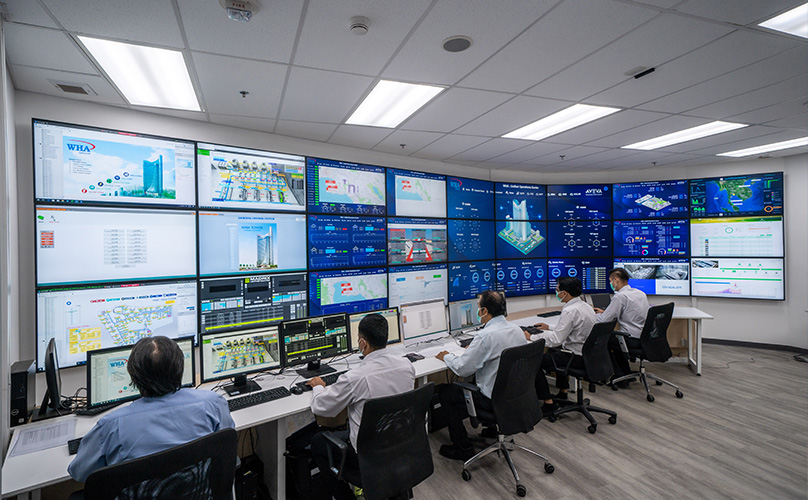 1. Environmental Monitoring and Control Center (EMCC) focuses on five monitoring components as follows.
A real-time Water Quality Monitoring Station (WQMS) monitors the quality of treated wastewater before it is discharged to natural sources. Organic substances, chemical oxygen demand (COD) levels, and bio-chemical oxygen demand (BOD) levels are among the monitoring parameters. In the event of a non-compliance, an alert will be sent to the appropriate operators, who will take immediate corrective action to pump and retreat until compliance is achieved.
An Air Quality Monitoring Station (AQMS) continuously monitors Total Suspended Particulates (TSP), Particulate Matter (PM-10), Sulfur dioxide (SO2), and Nitrogen dioxide (NO2). In addition, meteorological data such as wind speed and wind direction are monitored.
The EMCC discloses the results of environmental monitoring of industrial estates in accordance with EIA requirements. Indicators include the quality of ambient volatile organic compounds, noise pollution, and surface water quality, etc.
The EMCC serves as a channel for factory operators located within industrial estates to submit environmental reports in accordance with their respective EIA requirements. Air emission quality via stack, EIA compliance, risk analysis, and boiler/ steam generator inspection reports are examples of submission reports. This system allows the IEAT to effectively review submitted reports while also reducing paper consumption.
Complaints received through available channels are recorded and tracked by this EMCC system until the complaint handling process is completed. Complaints are entered into the system and forwarded to the appropriate personnel so that they can carry out the necessary response actions.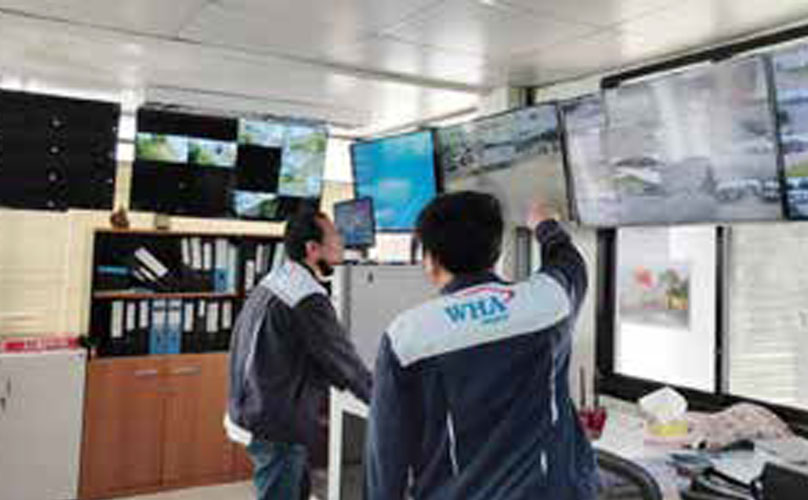 2. Closed Circuit TV (CCTV) and Vehicle Management System (VMS) Center
At the UOC, data from all CCTV installed at critical points around the industrial estates' common areas is projected. This enables the emergency response team to easily identify and take immediate action, if necessary. The VMS is also used at the main entrance of the industrial estates to collect all traffic-related information, such as license plate numbers and times of vehicle entry and exit, for better traffic management and safety.
3. Water and Wastewater Treatment Plant Control Center
This Center forecasts and monitors the performance of the equipment used at water and wastewater treatment plants. This ensures that both the water and wastewater quality meet the threshold before being supplied to end users or discharged into public waterways.