WHA Industrial Zone Nghe An JSC Supports to Build Gratitude Houses for Relatives of Martyrs in Nghi Loc District



---
On June 30, WHA Industrial Zone Nghe An JSC cooperated with Nghe An Provincial Martyrs' Family Support Association and Nghi Loc district to give supported funding for martyrs' relatives to build residential houses.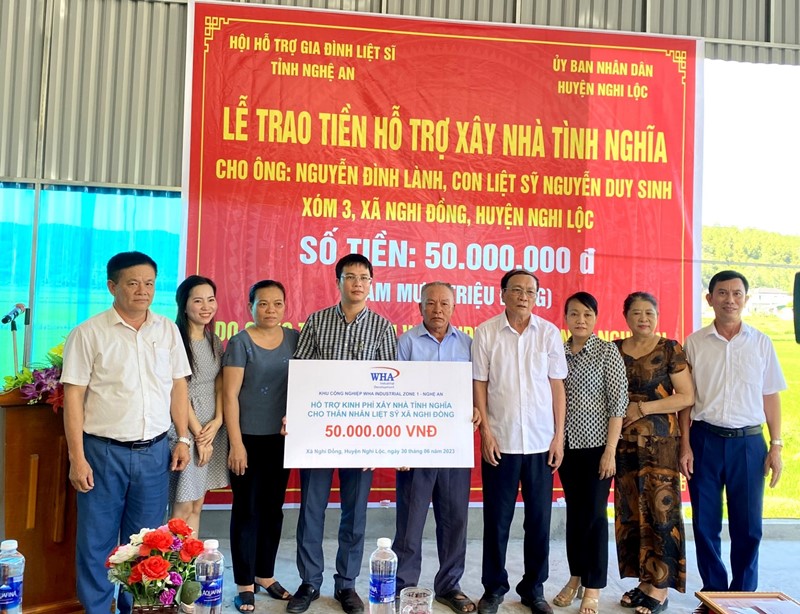 In Nghi Dong commune, WHA Industrial Zone Nghe An JSC. donated VND 50 million to support the construction of a gratitude house for Mr. Nguyen Dinh Lanh, son of martyr Nguyen Duy Sinh, in hamlet 3, Nghi Dong commune, Nghi Loc district.
On behalf of WHA Industrial Zone Nghe An JSC, Mr. Ngo Khac Toan, Senior Manager, expressed that this significant activity illustrates the guiding principle of "When drinking water, think of its source." This principle encompasses moral values, compassion, and the endeavor to enhance the quality of life for families of martyrs and individuals who have made contributions to the revolution.
---