WHA Group's CSR Program Continues to Help Foster Community Development : Health



---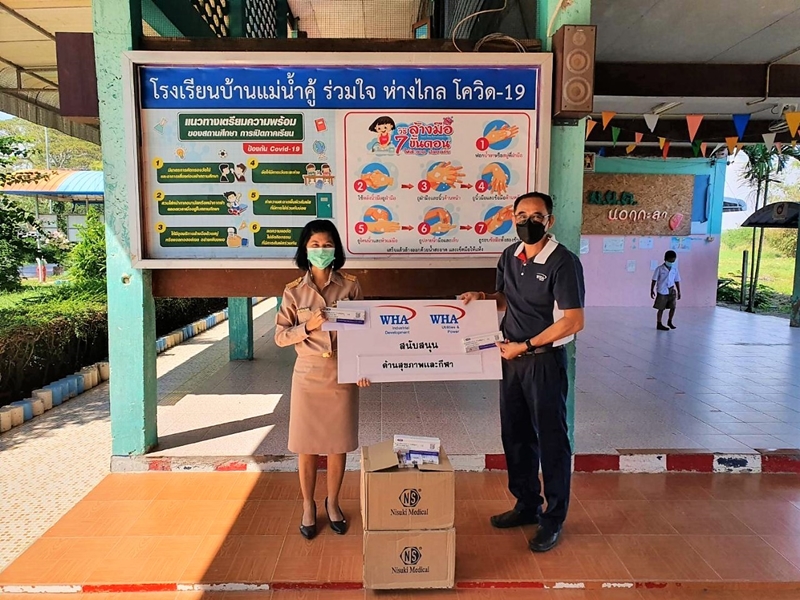 With the growing number of COVID-19 cases in the country, Antigen Test Kits were distributed by WHA Industrial Development Plc. (WHAID) and WHA Utilities and Power Plc. (WHAUP) to help reduce the spread of the virus among community members, especially among teachers and students. WHA teams went to Si Racha in Chonburi to deliver the ATKs to Ban Raweng School, Ban Surasak School and Ban Khao Khan Song School. Meanwhile, in Rayong, the kits were distributed to Ban Khlong Khanun School, Ban Khai; Mae Nam Khu School, Pluak Daeng; and the Nong Lalok Subdistrict office.
When COVID -19 cases were rising in the neighboring communities of WHA industrial zones, WHAID and WHAUP showed their support to the patients by giving out care packages to the isolation center at the Mae Nam Khu Administrative Office, Pluak Daeng, Rayong, and to members of the community. WHA Rayong 36 sent care packages to Makham Koo Municipality in Rayong for patients quarantined at home who faced difficulties in obtaining basic necessities.
Lunchboxes and drinking water were provided by WHAID to the staff of Ban Khai Hospital, Ban Khai Vaccination Center, and Chakbok Vaccination Center in Ban Khai, Rayong.
For dialysis patients who were afflicted with COVID-19, WHAID also donated negative pressure cabins to the field hospital that was set up at the Rayong Provincial Stadium.
It was discovered that the storage rooms at the Nong Suea Chang Health Center were in urgent need of repair. WHAID and WHAUP reacted immediately by sponsoring its renovation to ensure that all patients receive proper treatment using clean medical equipment and supplies.
---