WHA Group Hosts 5G WHA Smart Ecosystem for Industrial Customers



---
WHA forges ahead with groundwork for Industry 4.0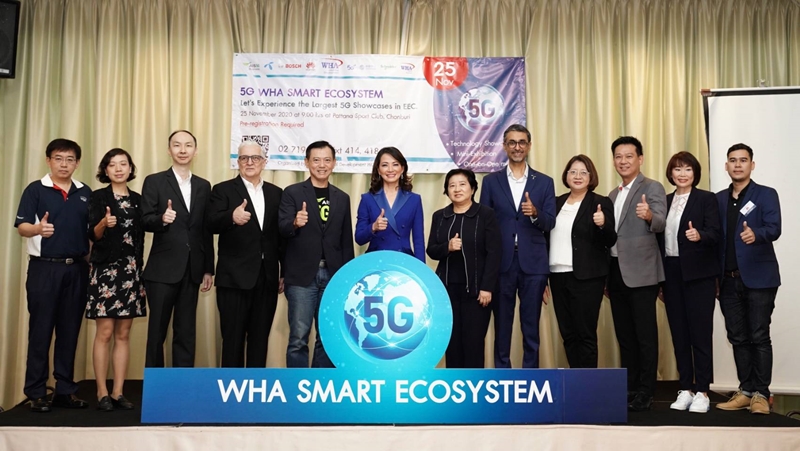 In picture: Ms. Jareeporn Jarukornsakul (6th left), Chairman and Group CEO, WHA Corporation PCL, Mr. David Nardone (4th left), Group Executive Industrial and International, WHA Industrial Development PLC and Mr. Kraitos Ongchaisak (3rd right), CEO, WHA Infonite Co., Ltd., together with distinguished guests from the government sector, telecom operators and technology providers during the 5G WHA Smart Ecosystem event.
Chonburi, 25 November, 2020 – WHA Corporation PCL (WHA Group), Thailand's leader in fully-integrated Logistics, Industrial Estates, Utilities & Power, and Digital Platform, hosted 5G WHA Smart Ecosystem, on Wednesday, November 25, a showcase to provide information to industrial estate customers on its strategic priorities in relation to 5G network and digital transformation.
Spearheaded by WHA Industrial Development PLC. and WHA Infonite Co., Ltd., the event offered a one-stop shop for present customers and potential investors seeking to boost their operations through 5G. Tech giants, AIS 5G Business, Bosch, China Mobile, Dtac Business, Huawei and Schneider Electric were invited to set up showcases to present their technology, infrastructure and solutions. Experts were on hand to explain how their products and services could enhance businesses in the digital economy.
"We are now at the forefront of digital transformation, as we go towards Thailand 4.0. It is the right time for WHA and our customers to ride this wave of change and seize the opportunities that arise," said Ms Jareeporn Jarukornsakul, Chairman and Group CEO, WHA Corporation Pcl, during her opening remarks. "We are now in an era of widespread wireless telecommunications technology, with both the public and the private sectors working together to serve new S-curve industries, and to attract global tech giants."
"WHA is putting together its resources to ensure adaptability and efficiency, while offering an intelligent environment that is suitable for growth during this time of advanced technology and innovations," said Mr David Nardone, Group Executive industrial and International, WHA Industrial Development Plc. "I would like to thank our valued customers and exhibitors for coming to 5G WHA Smart Ecosystem. WHA stands firm in its commitment to providing a smart ecosystem that will enable its customers to benefit from digital transformation, as the country forges ahead with its Thailand 4.0 strategy.
WHA Infonite showcased the IT solutions they currently propose to WHA customers, such as FTTx Service, Rental/Leasing Equipment & Software Service and System Integration. Visitors were invited to go from booth to booth to explore the technological innovations and services on offer from some of the world's top tech companies, and to hold one-on-one discussions on partnering opportunities.
Over 120 representatives from 100 companies located in the different WHA industrial estates in and around the Eastern Economic Corridor took part in this successful event organized to prepare the ground for Industry 4.0.
The 6 exhibitors that will present their 5G solutions are as follows:
WHA Infonite

WHA Infonite will shed light on its Digital Services that can provide industrial customers with a comprehensive IT solutions: Data Center, Co-location, Fiber Optic Internet FTTx Service, Rental/Leasing Equipment & Software Service and System Integration Service.

AIS 5G Business

Robots will demonstrate latest 5G solutions adapted for industrial sector such as Enterprise Mobility, Business Network, Business Cloud, IoT/M2M, ICT, Cybersecurity, including digital services like Digital Marketing, Digital Payment.

Bosch

Delivering innovations for a "connected life" in the industrial scene, Bosch will showcase its latest technology "invented for life" that are most suitable for WHA customers, such as Active Shuttle, Bosch iSite, Nexeed and MEC Optimize.

CMI Thailand will present a variety of iSOLUTIONS for smart manufacturing such as Industrial IoT and other improved efficiencies. It will show how Predicative Maintenance is used to track applications on Cloud to monitor performance in real time; and identify and fix issues to prevent interruption.

dtac 5G

Highlight of this showcase is the Smart MDB Care. dtac Business provides connectivity services and business solutions for small, medium and large enterprises. A developer of the most convenient, worry-free and best-value solutions, dtac Business is a leader in mmWave 5G industrial use cases in the logistics, surveillance and smart utilities.

Schneider Electric

Schneider Electric will exhibit Digital Transformation of Energy Management and Automation, integrating world-leading process and energy technologies, end-point to cloud connecting products, controls, software and services, across the entire lifecycle, enabling integrated company management.
For more information on the 5G WHA Smart Ecosystem event, please visit http://www.facebook.com/whagroup, www.wha-group.com
---