WHA Group Accompanies TD Tawandang To Expand TookDee Convenient Stores Nationwide



---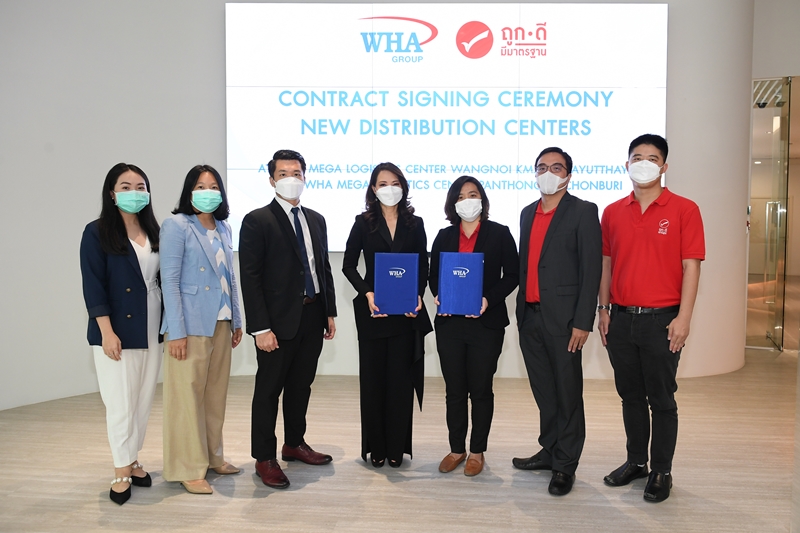 Shown in Photo: Ms Jareeporn Jarukornsakul (center), Chairman and Group CEO of WHA Corporation PCL., and Ms Tientham Setthasit (3rd from right), Executive Director, TD Tawandang, sign a contract for new warehouses at WHA Mega Logistics Center, in the presence of executives from both companies, during the recent signing ceremony held at WHA Tower.
Bangkok - WHA Corporation PCL. (WHA Group), Thailand's leader in fully-integrated logistics and industrial facilities solutions, recently welcomed TD Tawandang Co., Ltd., as its new customer during the contract signing ceremony for TD Tawandang's two new warehouses. The facilities will be used as a tactical base for storage and distribution of retail goods for its growing chain of TOOKDEE (TD) retail stores, with more than 5,000 branches nationwide.
With 9,645 sq m in WHA Mega Logistics Center Wangnoi 62 in Ayutthaya Province and 25,011 sq m in WHA Mega Logistics Center Panthong in Chonburi Province, the distribution centers are strategically located due to their easy access to Bangkok and its vicinity. TookDee has become a household name in recent years thanks to its mission to be the "community store for the community, by the community."
Ms Tientham Setthasit, Executive Director, TD Tawandang, expressed her desire to modernize traditional convenience stores and create business opportunities for more people, including local entrepreneurs in different communities. "With the warehouse facilities at WHA, we hope to streamline our operations so we can continue providing good quality products at affordable prices. This will also enable us to also create employment, support small businesses and entrepreneurs, and bring back confidence."
"We are deeply honored that TD Tawandang has placed its trust in our world-class services and logistics facilities to accompany its business expansion," said Ms Jareeporn Jarukornsakul, Chairman and Group CEO of WHA Corporation PCL. "It brings us great pride to provide secure, efficient and strategically-located bases for TD's operations as it strives to uplift the local community network and revitalize the country's grassroots economy. We laud TD Tawandang for its exemplary efforts to improve the lives of Thai people."
This year, there are more than 3,000 TD stores nationwide, with plans to expand to 30,000 shops in 2022. The company is focusing on making its stores and services accessible to more people, including those at the most remote villages in the country.
---