WHA TOWER: New Headquarters to Rise in Bang Na



---
The "Ultimate Living Workplace" will be ready in 2020
to Accommodate Investors in S-Curve Industries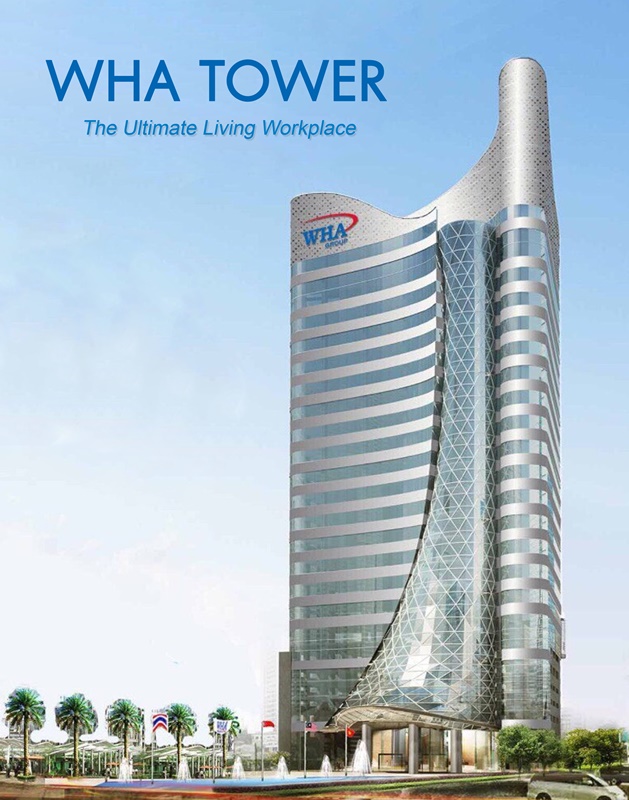 Bangkok, August 6, 2018 – WHA Corporation PCL (WHA Group), Thailand's leader in fully-integrated logistics and industrial facilities solutions, has announced that the company will soon build its new headquarters in Bang Na, the gateway to the EEC. With a budget of Baht 2 billion, the 25-storey building will be a major corporate project that will be erected according to the latest world-class standards. It will foster modern office construction offering a flexible working environment.
The WHA TOWER is designed by award-winning Palmer & Turner (Thailand), responsible for iconic buildings that now grace Bangkok's skyline, such as The Park Chidlom. The WHA TOWER will have a total area of over 53,000 sq.m., approximately a third of which will be occupied by WHA Group offices. The remaining area will be offered for rent to corporations and business entrepreneurs, especially to WHA customers in the S-curve industries. Its ideal location on Bang Na Trad Highway Km 7 is a short drive to WHA Logistics Centers in Bangna Trad, WHA Logistics Parks and WHA Industrial Estates. It is also within close proximity to Suvarnabhumi airport, Mega Bangna, Central Bangna, residential projects, schools and universities; and upcoming developments such as the mixed-use lifestyle project "The Forestias" and "The Bangkok Mall".
The foundation stone-laying ceremony was led by Ms Jareeporn Jarukornsakul, Chairman and Group CEO, WHA Corporation. This event officially launched the start of WHA TOWER which will set a benchmark for sustainability and efficiency in office design and construction.
"This marks a very important milestone for WHA Group and a very exciting time for the management, employees and clients who will benefit from the excellent work environment the WHA TOWER will offer," declared Ms. Jareeporn Jarukornsakul. "The decision to build this new headquarters stems from our desire to deliver quality service to our customers. It will be designed to increase efficiency for all our business units and will be equipped with state-of the art technologies featuring cost-effective and eco-friendly approaches. It will be a first in many levels, as the 'ultimate living workplace', the new landmark in Bangna and the gateway to the EEC."
Expected to be completed in 2020, Bang Na's newest architectural landmark will have outstanding features for security and surveillance, building diagnostics, early fire detection, solar roof outside parking and building management.
WHA Group is investing for the long term, which is one of the keys of the company's success. Its commitment to build a new, state-of-the-art corporate headquarters and support thousands of jobs is proof that its strategies are successful, in order to keep the country's industrial sector moving forward.
---