WHA Group Adheres to ESG Principles to Connect with Communities and Create Sustainable Growth



---
WHA Group honors its commitment to communities by launching programs and activities that improve the lives of the people and promote sustainable living. It takes pride in building binding relationships with community members by encouraging interaction and communication so that together they can address ways to foster development. WHA Group believes in applying the concept of environmental, social, and corporate governance (ESG) and working in harmony with all stakeholders to fulfill its engagement.
Health and Well-being
With COVID-19 relatively under control but still among us, it is important for community members to remain cautious and continue to apply preventive measures. WHA Utilities and Power (WHAUP) and WHA Industrial Development (WHAID) donated medical supplies to the 60th Anniversary Commemoration of Princess Mother Health Center in Chonburi, to enable the efficient testing of those at high risk of contracting the virus.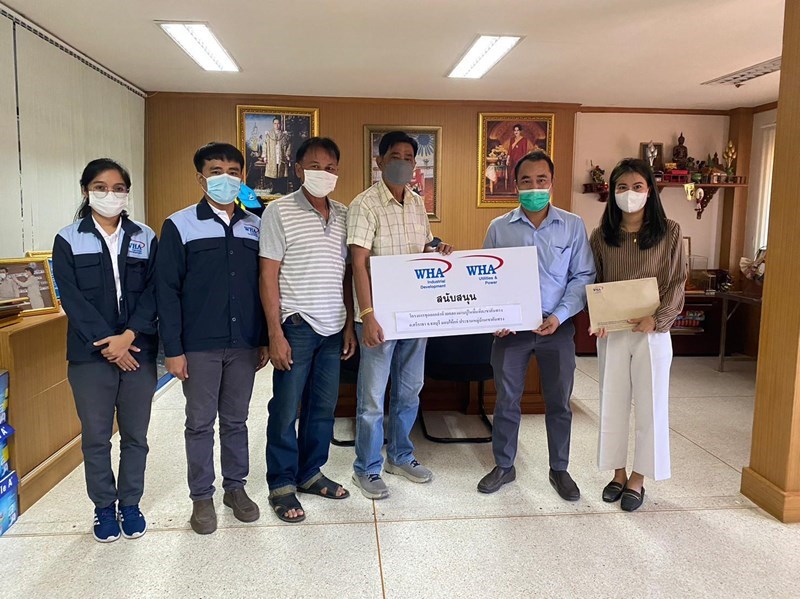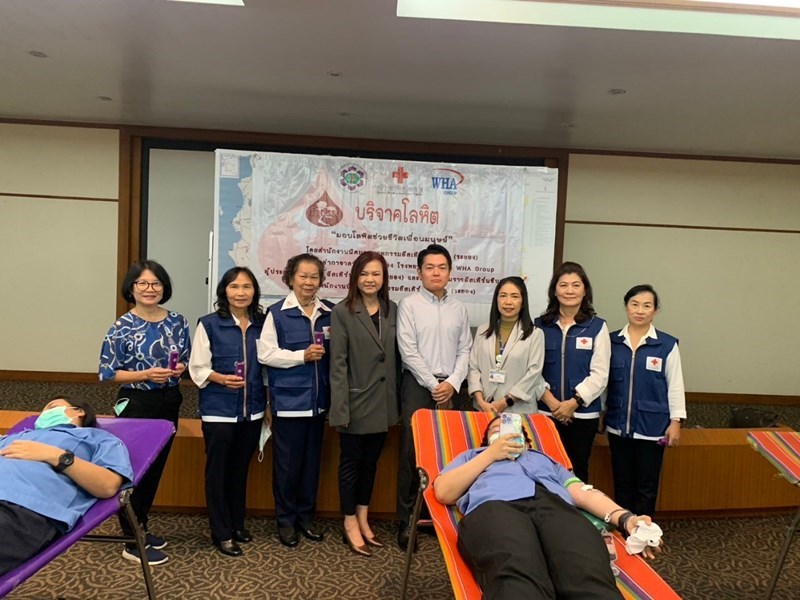 Meanwhile, to help maintain the blood supply at the Rayong Provincial Red Cross Chapter, Eastern Seaboard Industrial Estate (Rayong) (ESIE) organized blood collection activities in an effort to save lives. WHAUP and ESIE were present to assist the Pluak Daeng District Office raise money for charitable activities and promote a health program for the elderly in collaboration with Pluak Daeng Subdistrict Administrative Organization.
Education: Learning for Life
WHA Group is aware of the importance of education as it enables the young members of society to reach their dreams and secure a stable future. WHA Industrial Estate Rayong (WHA IER) awarded scholarships to deserving students from the Nong Bua and Bangbut subdistricts, so they can find good jobs in the future and help their families.
In Chonburi, the Group funded the repair of ceilings and classrooms at Baan Chalermlarp School and helped renovate equipment, building structures and landscaped areas in Ban Raweng School to ensure a safer and greener learning environment.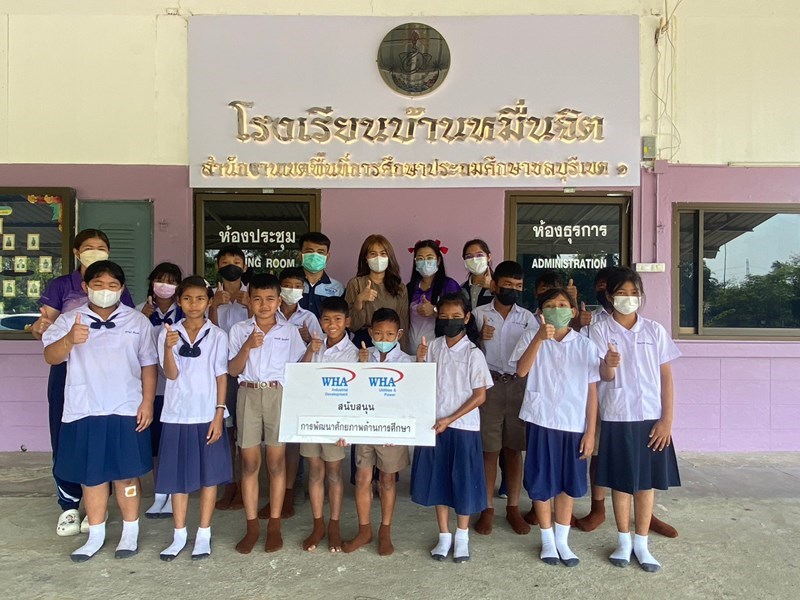 To encourage young students to develop their potential beyond academic learning and instill the value of teamwork and camaraderie, WHA Group participated in a project to encourage art and sports at Ban Muen Chit School in Chonburi. It also donated sporting equipment to Ban Khao Khan Song School in Chonburi and sponsored sports competitions for the Khao Khan Song Subdistrict Administrative Organization.
The Group also recognizes the importance of agriculture for the country's economic development. It organized a program at Chonburi's Banmablumbit School, where students were given hands-on experience on an actual farm, and supported the Zero Waste project at Eastern Sugar Company Community School in Rayong province to explain the benefits of waste segregation and recycling.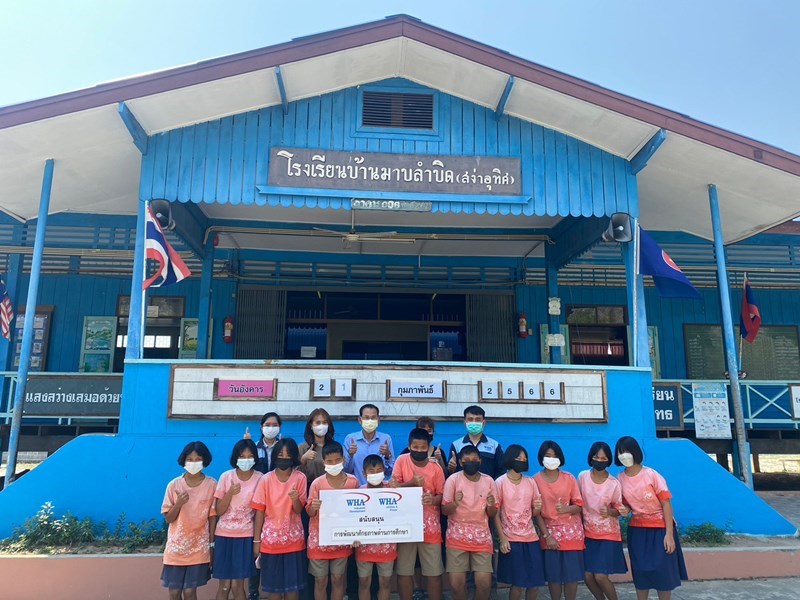 Caring for the Environment
A healthy environment is the basis of a sound economy that could lead to security and a happier community. WHA Group initiated a tree planting project for Nong Suea Chang Subdistrict Administrative Organization in Chonburi to increase the green areas that could help reduce smoke and dust pollution. It also organized a project to eliminate weeds in water sources in Baan Chalermlarp, Chonburi. The company funded the purchase of plastic bins to teach people how to segregate household waste and make the community cleaner.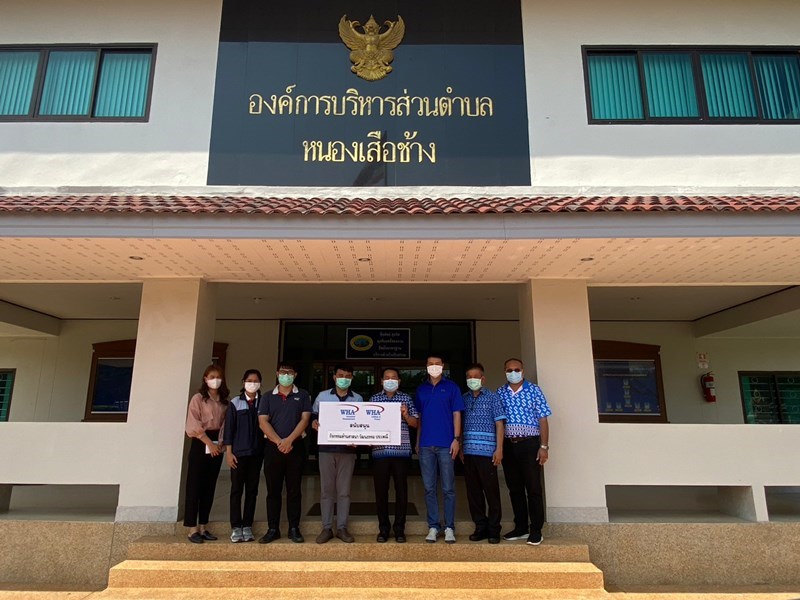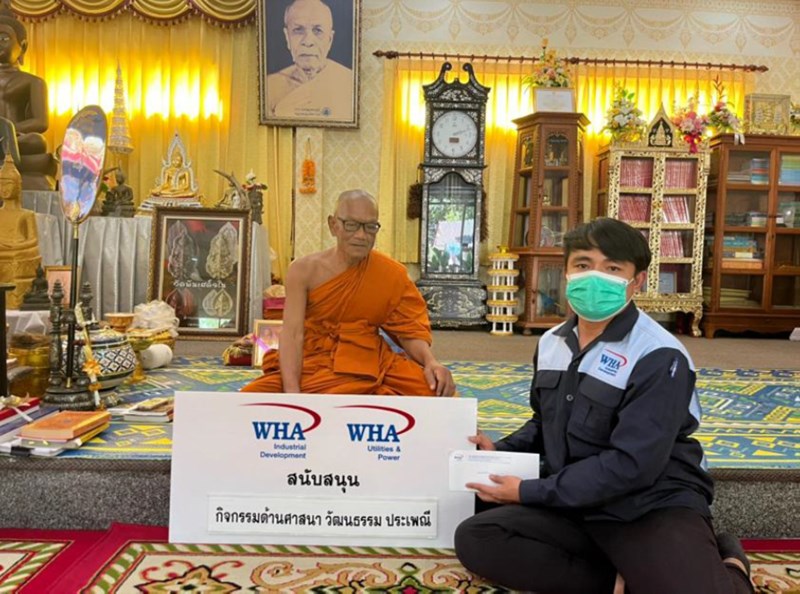 Upholding Thai Values and Traditions
To preserve Thai cultural and religious traditions, WHA Group participated in community projects at Khao Khan Song Subdistrict Administrative Organization in Chonburi. It organized merit-making ceremonies at different temples in the area, attended by many members of the community. The Group also participated in the 95th anniversary Muthitachit Ceremony for Luang Pu San at Wat Lahan Yai, while residents joined merit-making activities for the 43rd anniversary of the Ban Khao Hin School.
The company participated in the Loi Krathong festivities of different communities to carry on the tradition and to build good relationships with the people. In addition, it participated in buffalo racing festivals in Ban Map Khla, Ban Surasak and Ban Mab Lambid (Chonburi), and joined Chonburi's Khao Khan Song Subdistrict Administrative Organization for a project to instill a love of nature, environment, culture and Thainess.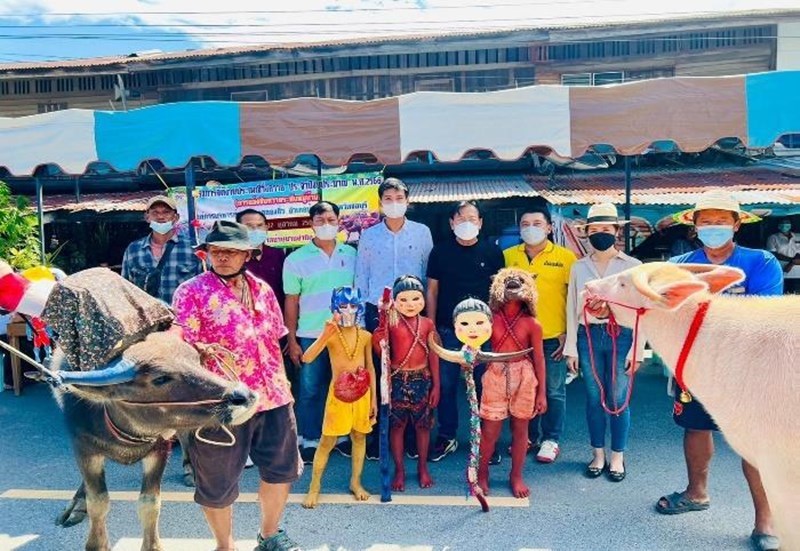 Community Projects and Activities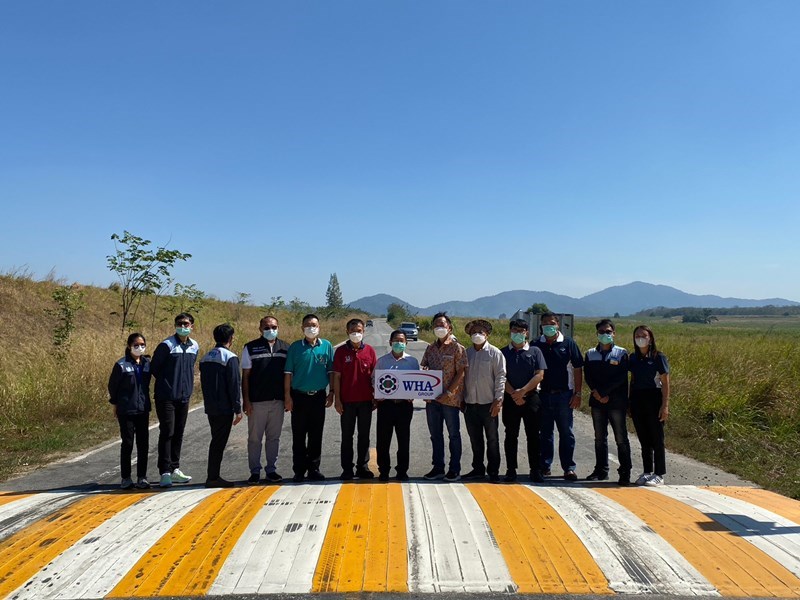 WHA Group launched the Speed Hump project in Ban Chalermlap, Chonburi to help slow down vehicles on the road and reduce accidents, The company also supported the Khlong Mappu Creek Dredging Project in Chonburi, to prevent flooding. Both companies also supported volunteer police projects at Khlong Kiew Police Station to build good relations with government agencies and to support police officers who provide public order and security around the industrial estates. Moreover, the companies also joined the Khao Khan Song Sub-district to continue the annual merit-making tradition and to participate in activities with senior citizens.
WHA Group participated in the village development volunteer project at Rayong's Ban Chak Mahat and installed air conditioners in the Volunteer Center of the Civil Defense Department lab in Rayong. It also showed its generosity by preparing and distributing relief packages to residents of the Pluak Daeng Subdistrict, contributing funds to develop tourist attractions in the area, and supporting the Pluak Daeng Subdistrict Administrative Organization project to improve employees' quality of life.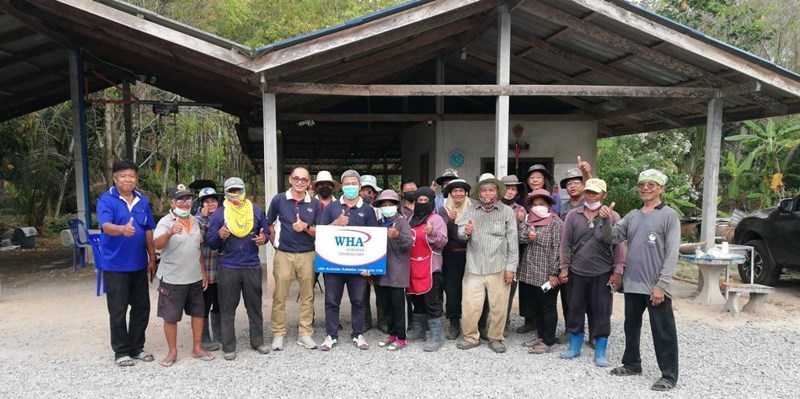 WHA's industrial estates continuously welcome local administrative officials, management and business delegations, volunteers and other visitors, to explain their operations and demonstrate the environment management systems and other sustainable projects in place.
By listening to shared concerns and working closely with representatives and leaders of different civic and social groups, associations and foundations, WHA Group strives to help all members of the community, from young students who study to ensure a brighter future, to the elderly who continue to be part of society. With the principles of ESG in its framework, WHA Group aims to work towards sustainability to build a harmonious relationship. Working together will help lay a strong foundation for a strong and successful community.
---