WHA Group joins Bualuang Ventures to tap into the e-Logistics market by investing in 'GIZTIX', a Thai startup, in the Series B funding round with total funding of more than THB 260 million, as well as supporting logistics operators to enter the digital era as a regional center



---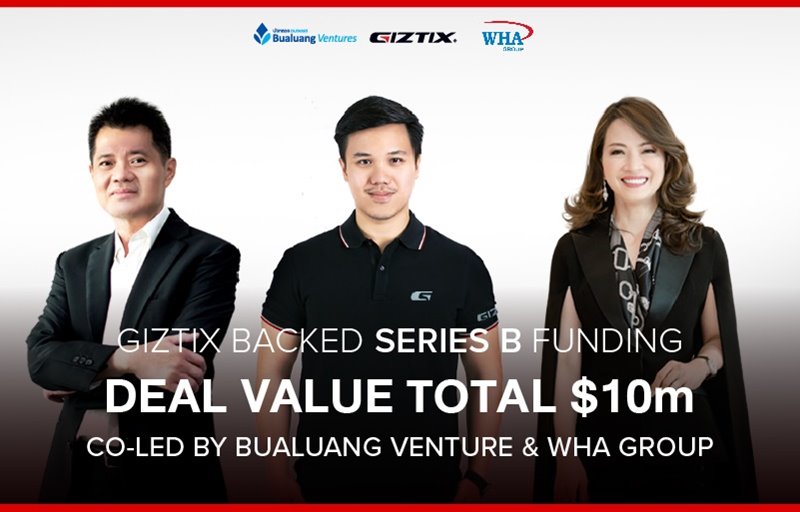 WHA Group joins Bualuang Ventures to become the main investor in the Series B funding round of 'GIZTIX', a Thai startup that provides a digital platform for e-Logistics, with total funding of more than THB 260 million. It aims to develop a comprehensive range of transportation services and technologies for businesses throughout the country. In addition, it is ready to support logistics operators to enter the digital era while aiming to occupy the strategic point of the regional center.
WHA Venture Holding under WHA Group, joined with Bualuang Ventures, a subsidiary of Bangkok Bank to become the major investor in the Series B funding round of GIZTIX, a leading e-Logistics startup that provides a digital platform to connect operators in the transport and logistics sector with users all around the country. This funding round is worth USD 7.75 million, or approximately THB 260 million. Bualuang Ventures and WHA Group will each invest USD 3 million, or approximately THB 100 million. The Series B funding round was also attended by leading institutional investors in the startup industry, including Addventures by SCG, KK Fund and CAC Capital. GIZTIX plans to use the funds to develop services and technologies in transportation and to expand the service areas while reducing transportation costs as much as possible.
Ms. Jareeporn Jarukornsakul, Chairman and Group CEO of WHA Corporation Pcl., said that WHA Group was very pleased to be one of the main investors in the Series B funding round. This partnership between Bualuang Ventures and GIZTIX is an important collaboration and in line with WHA Group's Digital Innovation and Transformation strategy which is focused on applying new technology and innovation to further develop a full range of products and services with business partners and startups. This responds to new needs under megatrends and will create more value and quality for WHA Group's products and services, including the development of modern and international standard Smart Warehouse, the use of robotics and automation together with 5G technology, and providing Smart Logistics to support entrepreneurs to collect and use data for in-depth analysis that will benefit their business, along with AI and Machine Learning that can enhance efficiency and reduce business costs in the long term.
"As Thailand's leader in fully-integrated logistics, industrial estates, and utilities, WHA Group is ready to bring in its expertise and the ecosystem of its four main businesses as well as its good relationship with customers and Thai and foreign e-Commerce and logistics operators to join with Bualuang Ventures and GIZTIX to support the growth of Thai entrepreneurs, reduce logistics costs and increase Thailand's competitiveness. Over the next few years, WHA Group will continually seek new investment opportunities with leading partners to expand its business and achieve sustainable growth in Thailand and the region," said Ms. Jareeporn.
Bualuang Ventures Managing Director Krit Phanratanamala said that the joint investment with GIZTIX, which has expertise in logistics and high potential, is a collaboration between Bualuang Ventures as a financial partner and WHA Group as a strategic partner that will drive Thai startups to prosper and help them to compete domestically and internationally. As a subsidiary of Bangkok Bank, which is a leading financial service provider, Bualuang Ventures is ready to bring in financial technology (FinTech) to further enhance services on the GIZTIX platform such as digital lending for GIZTIX drivers, working capital for entrepreneurs on the GIZTIX platform, as well as analyzing payment data to develop future solutions. This will provide greater access to financial services for platform users and strengthen the competitive edge for small logistics operators, while increasing the ability to respond to future needs of the e-commerce sector.
"We foresee growth in the e-Commerce sector and related businesses such as logistics. As consumers have grown to enjoy having many choices for their logistics provider, we are confident that this investment will support the growth of the entire supply chain, from sellers to logistics operators, to consumers. Everyone will receive an efficient service thanks to digital technology that helps manage, control costs, and speed up delivery time under GIZTIX's system that is about to be developed using this funding to enhance service capability," said Mr. Krit.
Mr. Sittisak Wongsomnuk , CEO and co-founder of GIZTIX or Giztix Co., Ltd., said that the proceeds received from the Series B funding round will be used for business development in four areas: 1) Developing more comprehensive transportation services and technologies using advanced technology 2) Expanding the transportation network to provide nationwide services, especially in strategic road transportation routes using e-Logistics 3) Investing in marketing and sales to help distribute income to transport operators in every province and 4) Investing in management and technology to maintain profitability in parallel with business expansion. It is also preparing to list on the Stock Exchange of Thailand in 2025 or in the next four years.
Despite the fact that there is fierce competition in the logistics industry in Thailand, as many large corporates from foreign countries have entered the market, GIZTIX's strong point is we choose to focus on business customers and mainly large-sized products which are less competitive. We also offer a full range of services that are particularly designed for business customers, while running every work process with technology support. Therefore, we continue to gain trust from our customers. The Covid-19 outbreak in 2020-2021 has encouraged businesses to increasingly turn to online services. As a result, the number of transport trips managed through the GIZTIX platform has increased by more than 420% or more than 500,000 transportation trips per year.
Mr. Sittisak, GIZTIX CEO and co-founder said that: "The road transport business in Thailand is worth more than 19 billion US dollars a year and there is a huge opportunity to grow further as Thailand is also a strategic hub for transportation and logistics in the region. Unfortunately, businesses in the logistic sector still lack digital systems that will connect data and provide real-time communications. Therefore, it is an important opportunity for GIZTIX to help develop these businesses in Thailand using our digital technology, so they can be in line with the National Logistics Master Plan"
About WHA Group
WHA Corporation Pcl. (WHA Group) is Thailand's leader in fully-integrated logistics and industrial facilities solutions. WHA's operations consist of 4 business areas in Logistics, Industrial Development, Utilities & Power and Digital Platform with an integrated service offering that enables it to provide customers with turn-key solutions:
Logistics – Customers can avail of built-to-suit factories, logistics facilities and distribution centers. This innovative concept was pioneered in the market since 2003 by WHA Corporation Pcl., with more than 2.49 million sq.m. in leasable area under owned and managed assets at 20 strategic locations nationwide to date.
Industrial Development – As a world-class industrial estate developer, WHA offers strong and efficient infrastructure, utilities, industrial clusters including automotive and petrochemical clusters, and comprehensive industrial services. Today, WHA Industrial Development Plc. has 12+ operating industrial estates, covering over 68,900 rai, mostly located in Rayong, Chonburi (in the EEC) and in Saraburi. The EEC Management Committee has designated 10 WHA IEs as special industrial zones for targeted industries, in line with WHA Group's commitment to support the development of 10 target industries in the country. WHA is also developing an industrial estate, WHA Industrial Zone - Nghe An, in Vietnam.
Utilities and Power – As the sole supplier of water and other utilities infrastructures, WHA Utilities and Power Plc. offers total security to industrial estate customers while enjoying strong partnerships with leading power operators. It supplies approximately 150 mm m3 of water per year and 596 operational equity MW.
Digital Platform – In order to support its customers in their business intelligence operations, WHA Infonite Co., Ltd. actively provides comprehensive data solutions and platforms through its data centers and FTTx covering 10 WHA Industrial Estates. The company has also acquired some shares in Supernap Thailand and continuously invests in digital infrastructure to serve leading multi-national and Thai companies.
Website: www.wha-group.com www.wha-industrialestate.com
---